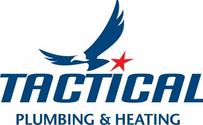 Plumbing Services in Wyomissing, PA
A lot is required to keep your home a comfortable, convenient place to live. Luckily, most of the time, the effort you have to put in to keep everything running smoothly is minimal. When malfunctions or breakdowns do happen, you need someone you can trust to get things functioning again as quickly as possible.

For heating, cooling, and plumbing services in the Wyomissing, PA, area, contact Tactical Plumbing & Heating. From water heaters to sewage pumps, we can repair, replace, and install it all.

Choose a Plumber Who Cares

You want to be treated as a person, not a source of revenue. At Tactical Plumbing & Heating, we understand that your situation is different from everyone else's. For this reason, rather than offering flat rates on our HVAC and plumbing services, we base the price of each job off of the specific needs of the client.

Of course, this doesn't mean that you have to agree to our services without having any idea how much they will cost. We offer free estimates, and we guarantee that our pricing will be fair.

For personalized service and pricing in the Wyomissing, PA, area, rely on the plumbing experts at Tactical Plumbing & Heating. Give us a call today at 610-926-4011 or fill out our online contact form.